The Myers Smart Battery Backup Sump Pump System by Myers/Pentair will help protect the basement from water damage by kicking into action during power outages or primary sump pump failures. Most home buyers don't think about their sump pump, but when the consequences of unexpected pump failures are understood, this battery backup system for sumps pumps is the solution will assist them in making the right decision.
The PREMIUM version is available in backup-only (MBSP-3) or a pre-plumbed primary + backup system (MBSP-3C). Both offer remote monitoring, smart charging technology, and dual battery capacity.
***This system does not include the battery. The BAT40, BAT75 or BAT100 battery must be purchased separately.***
Features
WIRELESS INTERNET CONNECTIVITY

Feature-Rich Web and Mobile Interface
2-Way Communication - Issue Test Cycles and Receive Confirmations

Proactive Text and E-Mail Alerts Delivered to the Homeowner, the Plumber, or Family Member

Easy Setup

SMART CHARGING TECHNOLOGY
Maintains Optimal Battery Life and Performance
Up to 5x Faster Recharging than Competition
DEPENDABLE REED SWITCH

Compact Design Eliminates Interference with Primary Pump Switch
Easy to Install

Selection Guide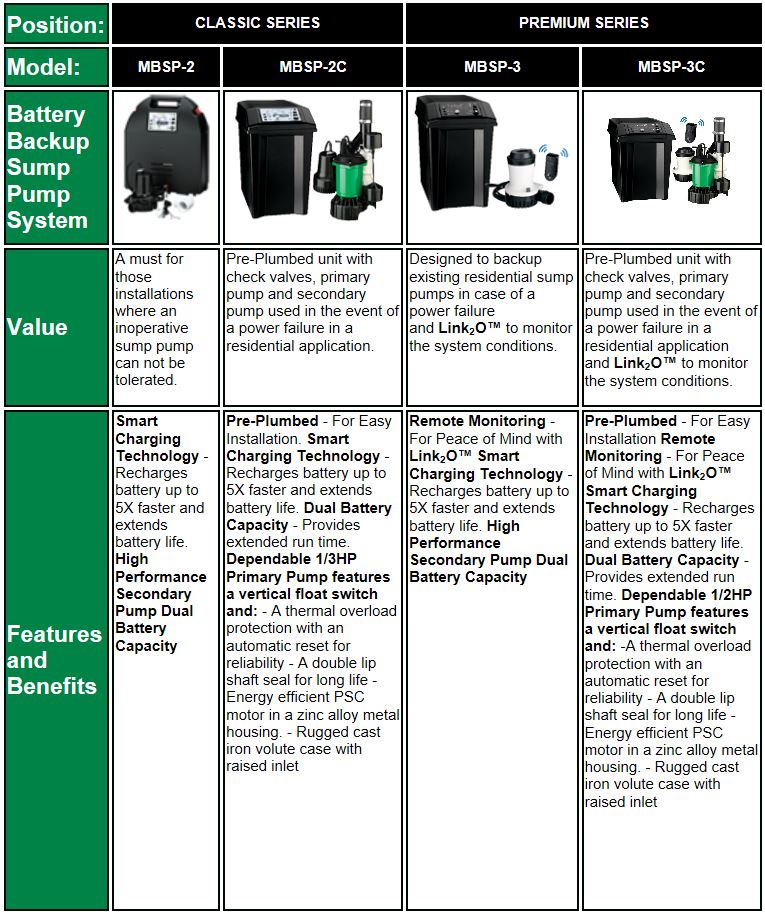 Warranty Information
Limited Warranty: 2 year manufacturer's warranty
Delivery
This item typically ships out within 3-7 business days.

Myers MBSP-3C Smart Battery Backup Sump Pump System
Brand: Pentair
Product Code: MBSP-3C
Availability: In Stock
Tags: MBSP-3C Smart Battery Backup, Sump Pump System, Myers, Pentair, Battery Backup Systems for Sump Pumps