The Pentair Pump Group MDC series of Myers submersible sump pumps are engineered for performance in a variety of demanding drainage applications. A unique combination of corrosion resistant materials make these water pumps a great choice for extreme conditions. Pump intake screen, impeller, volute base, switch and power cord are serviceable. Models are available with tethered or vertical switch.
Applications
Basement sumps pumps
Dewatering
Light effluent
Water transfer

Features
1/2 HP
High endurance oil-filled motor provides continuous bearing lubrication and maximizes heat dissipation
Shaded pole motor eliminates failure-prone switches and relays
Piggyback plug for automatic operation
Long-life carbon/ceramic seal protects motor against water leakage
Heat sensor overload protection with automatic reset when motor cools to a safe operating temperature
No drilling required: anti-airlock hole in base reduces added labor

Series Specifications
HOUSING: Heavy Cast Iron
HORSEPOWER: 1/2 HP
MAXIMUM CAPACITY: 62 GPM
SHUT OFF HEAD: Up to 32'

OPERATION: 6.5" On, 2" Off
MAXIMUM SOLIDS HANDLING: 1/2"
LIQUIDS HANDLING: Drainage effluent
CONTINUOUS LIQUID TEMPERATURE: 130 F (54 C)

SWITCH TYPE: Vertical
ACCEPTABLE pH RANGE: 6-9
SHAFT SEAL: Carbon and ceramic

MINIMUM SUMP DIAMETER: 10"

DISCHARGE PIPE SIZE: 1-1/2" NPT
AMP DRAW (FULL LOAD): 12 Amps
VOLTAGE: 115v AC, 60 Hz
CORD LENGTH: 10'

Dimensions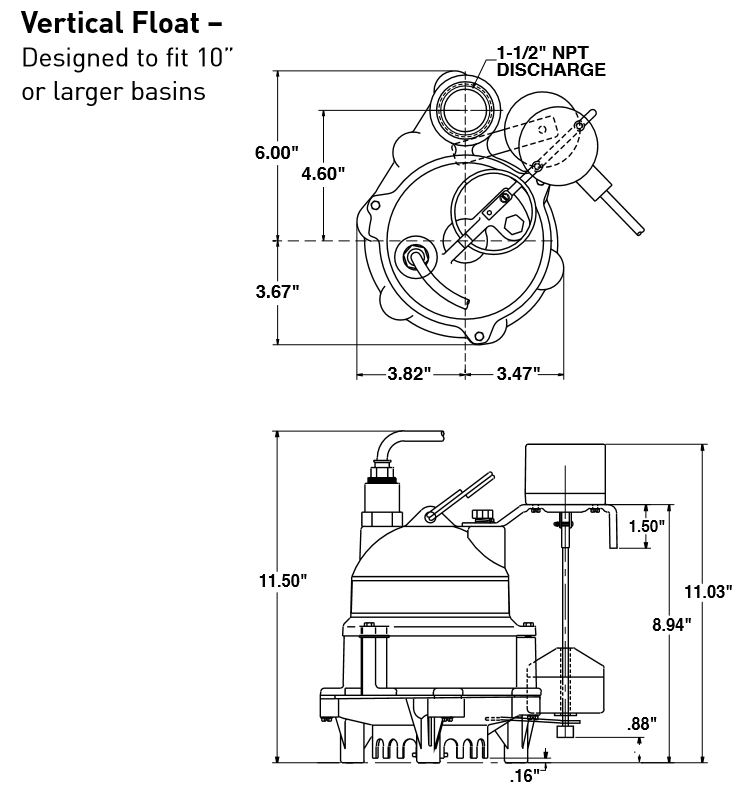 Performance Data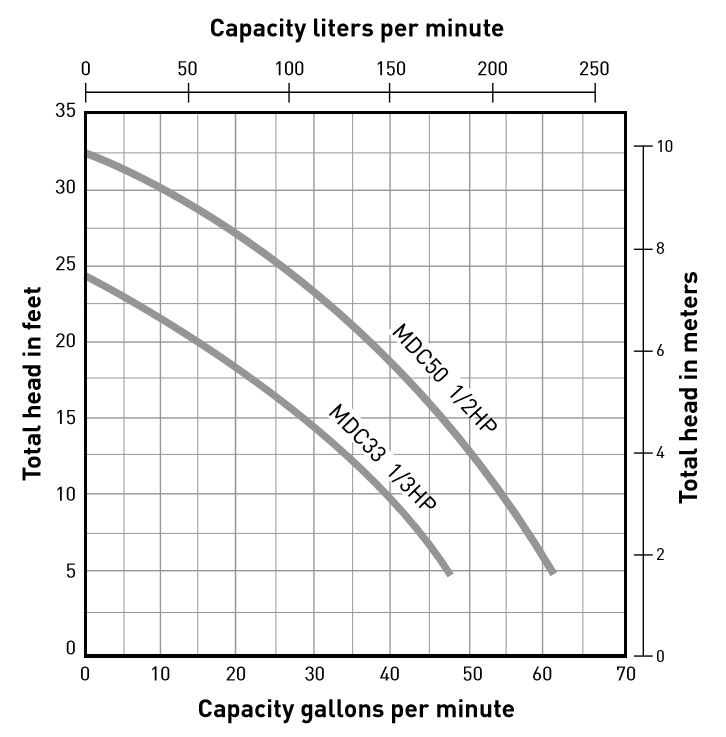 CLICK HERE TO DOWNLOAD TECHNICAL SPECIFICATIONS



Warranty Information
Limited Manufacturer's Warranty: 2 years from date of manufacture
Delivery
This item typically ships out within 3-7 business days.

Myers MDC50V10 Submersible Sump Pump
Brand: Pentair
Product Code: MDC50V10
Availability: In Stock
Tags: Myers, MDC50V10, Sump Pump, MDC series, Pentair, drainage, pumps