The MSE50 series of Myers submersible residential sewage pumps are designed for high performance applications. With a recessed vortex impeller, this pump will easily pass 2" solids and pump up to 145 GPM. With a durable cast iron construction and reliable two-pole switch design, this pump is perfect for any residential sewage application. This Pentair sewage ejector pump is a great option when you have any type of plumbing that is located below the main sewer or septic line, such as a basement bathroom or laundry room.




Features
Durable Construction - Durable cast iron construction for heavy duty applications
Reliable Switch Design - The unique two-pole switch is protected with a guard to block debris
Free-flow Design - Recessed impeller design also improves the free flow of solids up to 2"
High Performance - Capable of pumping up to 145 GPM and up to 22 feet of head

Series Specifications
BODY CONSTRUCTION: Heavy Cast Iron
HORSEPOWER: 1/2 HP
MAXIMUM HEAD: 22'
MAXIMUM FLOW: 145 GPM
SWITCH TYPE: Vertical

DISCHARGE PIPE SIZE: 2" NPT
MAXIMUM SOLIDS HANDLING SIZE: 2"
AMP DRAW (full load): 4.6 Amps
CORD LENGTH: 10'
VOLTAGE: 230V
INTERMITTENT LIQUID TEMPERATURE: 130 F (54.4 C)

Dimensions




Performance Dat
a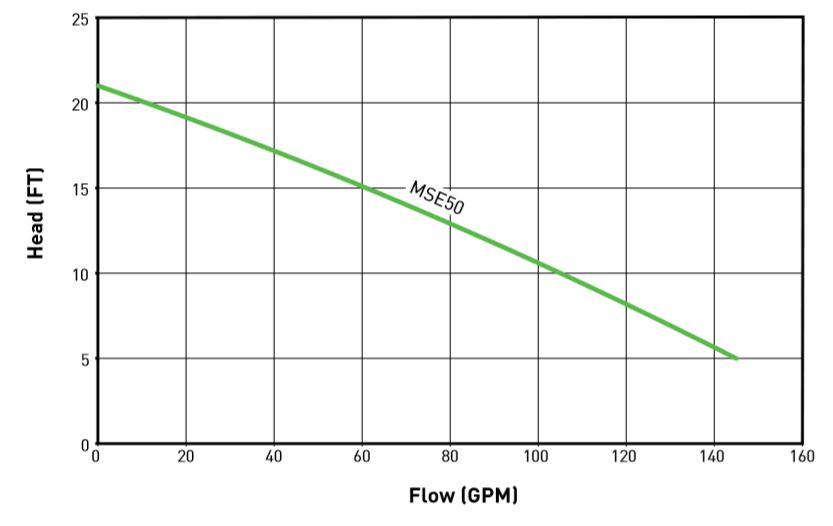 Warranty Information
1 Year Manufacturer's Limited Warranty
Delivery
This item typically ships out within 3-7 business days.

Myers MSE5022P10 Submersible Sewage Ejector Pump 230V 10' Cord
Brand: Pentair
Product Code: MSE5022P10
Availability: In Stock
Related Products
Tags: Myers, Pentair, MSE50 series, MSE5022P10, Submersible, Sewage, Ejector, Pump, pumps