Little GIANT LED lighting is the most energy efficient way to bring out the dramatic beauty of your water. The lights are compact and give you the ability to offer powerful long-lasting lighting for your fountain, landscaping, pond, plants, or statues. This LED is red in color. LED Egglites are also sold in green, blue, and white.
The LEDs are powered by a low voltage, plug-in transformer or a solar transformer (the transformer is not included with the Egglites). The plug-in transformer allows you to power up to 12 LED lights while the solar powered transformer allows you connect up to 6 LED lights.
** LED EGGLITES DO NOT INCLUDE A TRANSFORMER. PLUG-IN TRANSFORMER (#566435) OR SOLAR TRANFORMER (#566430) IS REQUIRED FOR OPERATION AND MUST BE PURCHASED SEPARATELY ON OUR WEBSITE **

CWS Environmental recommends a minimum of 4 total LED Egglites (two 2-packs) for use with Disappearing Fountain Kits.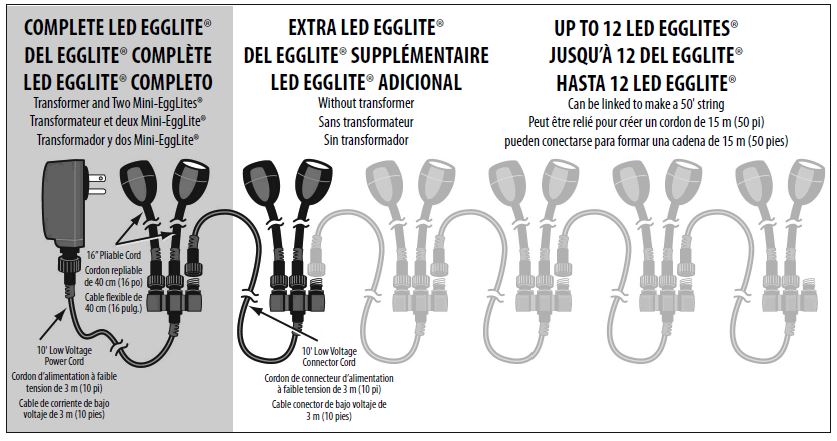 Features
Fully submersible LED lights and cord for use in or out of water
Includes 2 red LED Egglites (one 2-pack)

Flexible 10' cord
16" pliable cord for each LED to allow versatility on where to point the LEDs
Powered by plug-in transformer (#566435) or solar transformer (#566430)
Connect up to 12 LEDs with the plug-in transformer or 6 LEDs with the solar transformer
Compact 1" diameter LED lamp size
This is Little GIANT model # LXE2-R / item # 566439
CLICK HERE TO DOWNLOAD TECHNICAL SPECIFICATIONS
CLICK HERE TO DOWNLOAD INSTALLATION INSTRUCTIONS

Warranty
3 year manufacturer warranty for LED Egglites
Delivery
This item typically ships out within 3-7 business days.
Add-on Red LED Egglite - 2 pack
Related Products