The Pentair Pump Group MS50PV10 long-life Myers basement sump pump also appropriate for many light-duty dewatering jobs. This Myers automatic submersible pump is designed for drain water removal or permanent applications with small amounts of debris. This 1/2 HP sump pump has a vertical float with Zinc/Thermoplastic construction.
Applications
Basement sumps pumps
Light duty drain water removal
Features
1/2HP
Maintenance free operation
Thermal overload protection with automatic reset Oil-filled PSC motor for maximum heat dissipation and continuous bearing lubrication
Durable PSC motor for years of service
Dual ball-bearing motor and additional lip seal for durability and longer pump life
Vertical mechanical switch for small 10" diameter sumps

Series Specifications
HORSEPOWER: 1/2 HP
MAX CAPACITY: 75 GPM (285 LPM)
SHUT-OFF HEAD: 25' (7.6 m)
VERTICAL FLOAT SWITCH SETTINGS: On: 7.5" (190.5 mm) / Off: 3" (76 mm)
INTERMITTENT LIQUID TEMP: Up To 140°F (60°C)
1/2 HP MOTOR SPECS: 115V AC, 60 Hz, 4.1 FLA; PSC Motor 3000 RPM with Thermal Overload Protection
POWER CORD: 10' (3.0m)
MAX SOLIDS HANDLING CAPACITY: 1/4" (6.4 mm)
DISCHARGE SIZE: 1-1/2"
MINIMUM SUMP DIAMETER: Vertical Switch: 10" (254mm)

Dimensions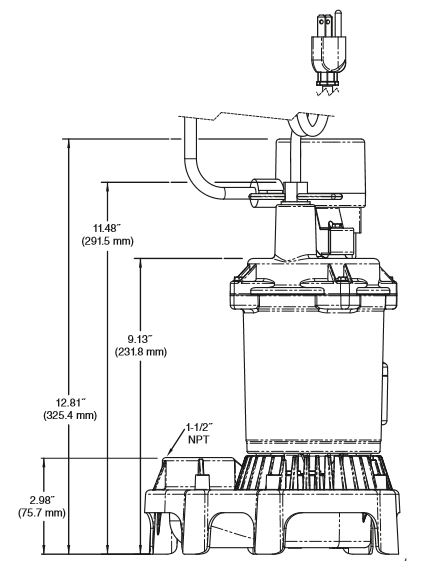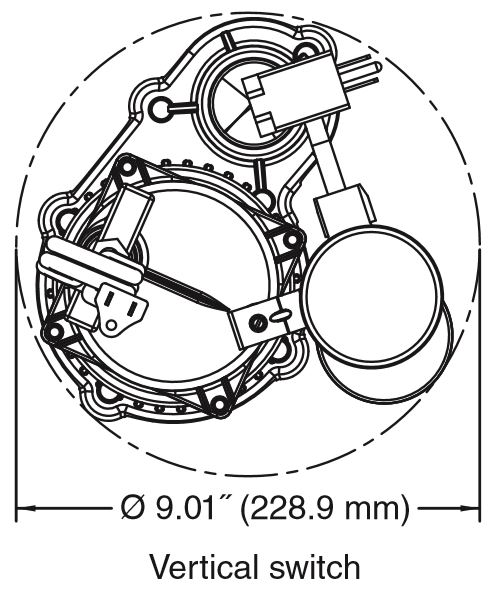 Performance Data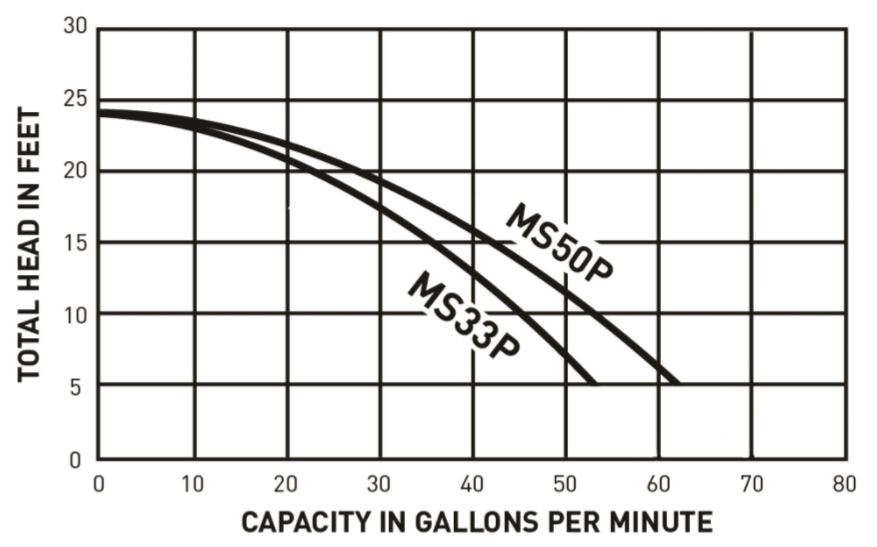 CLICK HERE TO DOWNLOAD TECHNICAL SPECIFICATIONS



Warranty Information
3 year manufacturer warranty
Delivery
This item typically ships out within 3-7 business days.

Myers MS50PV10 Automatic Submersible Sump Pump
Brand: Pentair
Product Code: MS50PV10
Availability: In Stock
Tags: Myers, MS50PV10, Sump Pump, Basement, Water Removal, Pentair, Submersible, Automatic, Dewatering